Digestive Disorders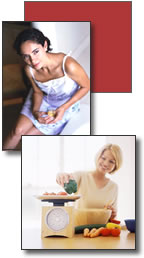 It is estimated that approximately 62 million Americans experience digestive problems on an ongoing basis. This is due to the harmful repercussions of the standard American diet on our population coupled with the high level of stress that the average American experiences. Digestive problems can range from minor annoyances, such as gas and bloating, to life-threatening illnesses, such as crohn's disease, ulcerative colitis, unremitting diarrhea, and various cancers that target digestive organs. Whatever the case, it is always worth being proactive about our digestive health. Most digestive disorders respond very well to acupuncture and herbal treatment. Making dietary changes that restore and detoxify the gut also enhances treatment progress.
Digestion is one of the main reference points for gauging one's overall health. If there are weaknesses or imbalances here, it is likely that one's overall health is compromised. Maintaining healthy digestion is an essential component in our quest for optimal health.
Acupuncture Treatment Learn more...
Free Book
Receive a free copy of our ebook, How To Thrive In The Modern World: A Layperson's Guide to Chinese Medicine.